Click on any picture to enlarge The parts store is open monday-friday all day and saturday till noon. I also open up on an emergency basis nights and weekends.
These are some pictures of the store from years past. Many changes have happened since. Some good and some, well, you know. To view more recent pictures go the the new parts photos page.
There was a lot of trial and error in product placement. Moving and changing displays seemed to happen often. There was not a concern about outgrowing the store size, most of the purchases were delivered to the customer. Being in a small remote rural town a high volume of walk ins were not anticipated (so I thought). Being only an hour travel from both Memphis TN. and Jackson Tn., an hour from Arkansas, an hour from Kentucky, and 45 minutes from Missouri became very practical for some customers. There is an enjoyable atmosphere here, sitting on the bench out front in good weather or sipping coffee and looking out the window provides some good conversation at times.
The counter is in the same place but the rest has moved. I'm getting some advice from all sides here.
There was ample room with the inventory on hand. That didn't last very long. I never anticipated running out of room.
Most of the moving inventory was ordered as-needed. There was a large inventory of materials from closeouts and such. There was enough room to sort and choose products to sell. The alternators and starters were rebuilt and stocked in the rear of the store building. The cores went to our drive in major rebuild and maintenance shop for cleaning. It is about one block away from the retail store. We now sell direct from many different manufacturers, remanufacturers, and distribution centers.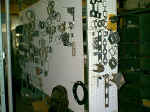 More pictures from the past will be posted as they are discovered. When we are busy working, there isn't much time or need to take pictures. The starter and alternator rebuild has moved next door, an internet activity area is being developed next door, and some storage has moved next door. The second floor of the store is also providing room for expansion. Those pictures will be on another page.