Old shop pictures.
The Truck Shop is Closed Due to Major Snow Damage (3/2009)
All other Service and Rebuild Operations are 100%
This repair facility specializes in Major Engine, transmission, driveline, electrical, and cab repairs. If any system is damaged it can be repaired or rebuilt from scratch.
You will benefit from many years of experience that recognizes the older equipment and also benefit from the constant training needed to repair the current equipment. Old school experience with up to date computer knowledge.
Experience + Knowledge saves $$$$$$$$$$
PLEASE!!!!! Don't throw $$$$$$ away trying to save costs by using "shadetree" or "con-artists" that are trying to learn at your expense. It is usually more expensive for us to re-repair than the initial repair would have cost, plus your added down time.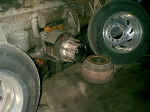 Do you need Brakes?
The Computer Diagnostics are Extremely Advanced and Capapable of any aspect of trouble shooting and repair. The service truck has mobile diagnostic capabilities and are almost as advanced as the shop diagnostic tools. You can schedule an on-site session for your fleet.
If you do most of your own repairs but need some of the components rebuilt by a specialized technician, feel welcome to bring the component here for rebuild.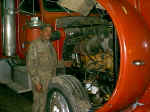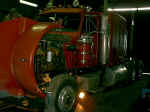 Here is a customer with a truck that has been parked for 10 years. He is doing the final checks on the oil and antifreeze before going back on the road. Not too bad for an "old" Pete!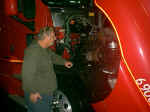 The final inspection is made by this Owner/Operator after the repairs to his N-14 Cummins were completed. This repair only took a few hours once it was started. He is now able to continue his work schedule with a good engine in his T-2000 Kenworth.
Another owner operator and his W-900 Kenworth with N-14 Cummins Power!!!! The picture says it all.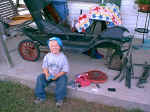 I'm gonna build a "Large Car" just my size!
Definition:
Big Truck, used on highway to relocate items from one place to another that travels as fast as it can.
Large Car, used on highway to relocate items from one place to another that travels as fast as you want to.